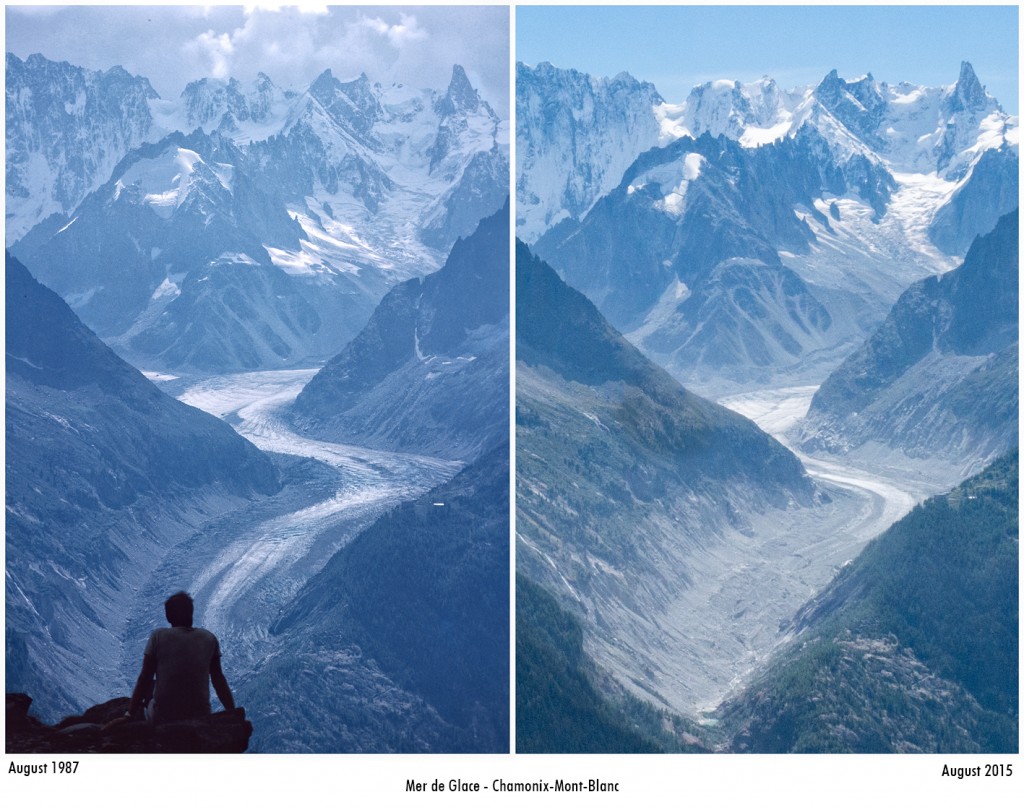 Have you ever wondered if all that stuff you read about glacier retreat is true? Sometimes the statistics are so alarming it's hard to believe things could be that bad. And if the retreat is happening that fast, is there anything we can do to try to slow it down?
A recent trip to the French Alps afforded me the opportunity to see the effect that climate change is having on the magnificent glaciers around Mont Blanc. The Mer du Glace (sea of ice) became a tourist destination back in the late 1800s, when pack mules were used to bring Victorian tourists up to see this enormous glacier, perched as it was then over the village of Chamonix. By 1908, travellers could use the newly-built cog railway to make the ascent to the bottom of the glacier. A hotel was then built above the glacier to accommodate tourists, such was the demand.
Hard to believe then, that in the space of 100 years or so, the bottom of the glacier can now only barely be seen from the hotel's terrace; when the hotel was built, the terrace afforded the best vantage point of where the glacier gently rolled to a stop.
But in less than 30 years, the change in the Mer de Glace, and its near neighbour, the Bossons Glacier, is quite breath-taking. Take a look at the "Then and Now" photographs below to see what glacier retreat looks like up close.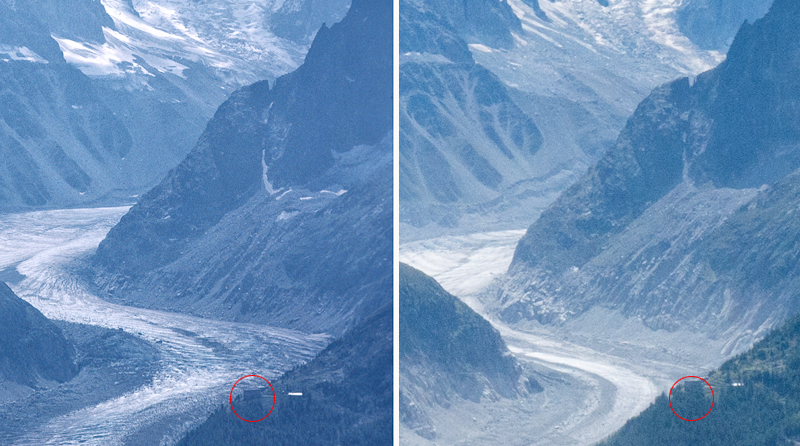 Glacier retreat is a naturally occurring phenomenon; the rate at which these and other glaciers worldwide are receding is faster though than nature intended, and much of it is due to climate change.
The glacier can now only barely be seen from the Montevers Hotel. A red circle highlights this 3 storey building about 5km from where I was standing for this photo.
But it's not too late to try to slow down this grim march. Getting involved in the discussions around the COP21 talks in Paris, taking public transport instead of your car, investing in a re-usable water bottle and coffee cup might seem small in the grand scheme of things – but if we all do small stuff, it can lead to an improved environment, especially for those glaciers.
The numbers in detail (for the really interested…) ……
The Mer De Glace drains the north side of Mont Blanc. This is the largest glacier in this section of the Alps at 12 km in length. At Montenvers, the glacier has thinned 150 meters between 1820 and 2004(1). In latter times, the glacier has lost 70 meters in thickness at Montenvers between 1990-2010, as it has retreated. Between 1994-2008 the Mer De Glace retreated more than 500 metres(2). Scientists predict that it will retreat by a further 1,200 m by 2040, and that this figure is likely to be a minimum(3).
Sources:
1 – Mer de Glace, Glacier Retreat-A Receding Sea – April 4, 2010 by Mauri Pelto –
2 – Relative contribution of surface mass-balance and ice-flux changes to the accelerated thinning of Mer de Glace, French Alps, over 1979–2008
Authors: Berthier, Etienne; Vincent, Christian
Source: Journal of Glaciology, Volume 58, Number 209, June 2012, pp. 501-512(12)
Publisher: International Glaciological Society
3 – Future fluctuations of Mer de Glace, French Alps, assessed using a parameterized model calibrated with past thickness changes
Authors: Vincent, C.; Harter, M.; Gilbert, A.; Berthier, E.; Six, D.
Source: Annals of Glaciology, Volume 55, Number 66, May 2014, pp. 15-24(10)
Publisher: International Glaciological Society